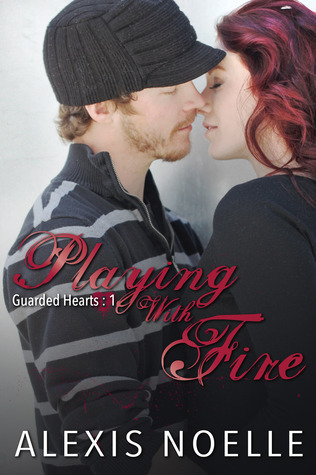 Playing with Fire
Guarded Hearts: 1
by Alexis Noelle
a New Adult Romance
from Beau Coup Publishing
***Blurb***
Sexy Carter James is the man every girl wants, and he's used to getting any woman he desires…until he meets the one girl who seems to be just out of his reach.
Beautiful Madison Stevens is trying to adjust to college and being on her own. When she meets Carter there is an instant explosive connection between them that they can't deny. But Madison already has a boyfriend, Chris, who isn't willing to share Madison with anyone, not even her friends.
Carter can sense there is something wrong with Madison and Chris's relationship. But what is it? Carter wants to give Madison the strength to walk away from Chris once and for all, but he's afraid he will he lose her in the process. Chris will not let her go easily, but Carter is ready to fight for the one woman who could mean everything to him.
"Chris was like fire. It was pretty to look at, but if you got too close you got burnt, and if it wasn't controlled it would destroy everything in its path. Doing what I was about to do with Carter was dangerous, but what can I say? I never had parents to warn me not to play with fire."
***Excerpt***
Maddy stayed away from me for the next couple months. Every time I tried to get close to her, she'd run or duck into one of the classrooms. I tried to go out and have fun with my friends, but I couldn't shake this feeling. Even they noticed that something was up with me. I didn't understand why I couldn't shake her from my system.
"Carter, listen, we get that you like this girl, but it's like November; time to move on." Shawn was looking at me, but he just didn't get it.
None of us were really the relationship kind. We went out, had a good time and sometimes went home with girls, but hadn't ever been with someone long-term. It was killing me to know in my heart what was going on with her and not be able to help. The first day I met Maddy, she was smiling and had that adorable sundress on. But since then, all she wore were jeans and long sleeves, even when it was warm out. I knew that asshole was hurting her, but she wouldn't talk to me.
"Listen, I get what you're saying, but I know something isn't right and I'm not gonna give up on her. I know you guys don't get it, but she's the one. I've never felt this for any girl I met. She's been ignoring me for almost two months, but I still find myself looking for her everywhere. I find excuses in class to talk to her. You know me and I'm not one to chase girls, but even that one day of being around her changed that. She's different and I feel different whenever I'm around her, even when she's ignoring me."
Jason laughed at me. "Carter, you just met this girl! You don't even know her that well. Maybe you just need to get laid and get her out of your system."
That was what I would've done before, but it wasn't going to work this time. I'd tried to forget Maddy. I went home with girls, but I just wasn't interested.
I didn't know how to explain it to them, but in the couple hours I spent with Maddy, she got to me. I'd never met a girl like her, and I didn't want to let her go. I had a feeling that she wanted me too, but something was holding her back.
Purchase Link
Amazon:
http://amzn.to/1lVpV7w
***Author's Bio ***
Alexis

Noelle

lives in Philadelphia, Pennsylvania with her husband, three kids, and two dogs. On top a writing career, she is a full-time student and a full-time mom. She loves spending time with her kids, although she has to hide the computer from them when she is writing! She loves being active and being outdoors, especially if it involves any kind of shopping.
She has always been passionate about writing. She loves to read romance books and feels like being able to lose yourself in a book is one of the more exciting aspects. The books she loves to read and write will be ones that make you feel for the characters.

Alexis

believes that you should have an opinion on every character in a book whether you love them, hate them, or think they are up to something.

She also believes that the most important critic is your reader, so she loves to hear from the readers. She want her fans to be open & talk to her about what they want for the characters in the story, and what they would like to see happen.
Contact her at:
Twitter: https://twitter.com/_alexisnoelle_
Goodreads: https://www.goodreads.com/author/show/7133378.Alexis_

Noelle


Amazon Author Page:

amazon.com/author/alexisnoelle


Facebook: https://www.facebook.com/authoralexisnoelle