It's my birthday, so I'm throwing a party!!!!! And I invited some friends to help me celebrate. Check out the awesome presents they brought:
Cowboys and Candy
An Anthology featuring
BUY LINK:
Lighting Up Valentine's Day~
by Avery Gale
Kylie Stone returns to her west Texas home to open a veterinary clinic, knowing her biggest distraction will be the man who has always seen her as nothing but the pesky, young daughter of his employer. Ranch foreman, Gavin McCloud hasn't missed the fact Kylie is no long a girl, but he worried his kinks might be too much for her, until overhearing Kylie's comments to her best friend about heroes in her erotic novels. Gavin then wonders if their needs might not mesh after all.
Her Outback Valentine ~
by Jess Buffett
Harper Andrews left home four years earlier, but never forgot about the cowboy who stole her heart, Ethan Taylor. Now Harper is home and determined to pick up where they left off, only this time, they play by her rules.
Roping Cupid~
by Willow Brooke
Finally home after finishing medical school, the last thing Harley Brannon expects to come face to face…er… horse with, is a flash from her past—Tim Kindle. Can Cupid knot the rope around their hearts, this time for good?
Edna's Heart~
by Lynn Ray Lewis
Edna "Eddie" Parker had been in love with Mathew Everly for years. When her world falls apart, will he admit his own feelings for her? Or will he continue to insist love is for sissy's?
Roping Candy's Heart~
by Gracie Meadows
Candy Drake, a local mechanic, set out on a call to fix a broken down truck, never expecting more than a simple service call. That is, until she meets Brett Turner.
Brett Turner comes to town, ready to plant his feet after leaving the rodeo circuit. Who knew a broken down truck and a small little woman could cause more adrenalin to course through his body than a twenty-five hundred pound bull.
When the truck starts, and the passion ignites between the two, will love be found by fixing a simple part, or will their love be heading to the junk yard?
Gracie brought the video entertainment!
Jess Buffett dropped off a gift-wrapped excerpt:
BLURB ~
Harper Andrews left home four years earlier, but never forgot about the cowboy who stole her heart, Ethan Taylor. Now Harper is home and determined to p
ick up where they left off, only this time, they play by her rules.
Harper turned to him the moment he stepped through the door.

Things were clumsy at first, which made him chuckle.
Harper pulled back, an eyebrow raised.

"Something funny, cowboy?"
Ethan's heat skipped at the nickname she had given him so many years ago.

He had always been her cowboy.
"Just our movements.

All hands and mouths."

He gave a one-shoulder shrug.

"I suddenly feel like we are kids again."
"Oh God, I hope not," she groaned, her fingers twining behind his neck to bring him forward.

"If we were kids, you'd probably regret whatever we are about to do and then silently beg me to leave."
Her words, though somewhat in jest, still contained some truth.

At least the truth he had always led Harper to believe.

If they were about to do this, Ethan didn't want history repeating itself, so he needed to be honest.
"I never wanted you to leave," he admitted, barely able to look her in the eyes.
Harper cut off what she was saying, her rant slowly dying.

"Say what?"
Ethan cleared his throat, uncomfortable with the heavy weight of her stare.

"You heard me."
"No, I couldn't have, because if what I heard was true…then you are a bigger idiot than I thought."
Ethan shrugged.

Right now, he'd give her that.
"I couldn't ask you to stay Harper."

No matter how much he had wanted to.
"So you hid from me all these years."

She laughed bitterly when he went to object.

"And don't say you weren't hiding.

We both know you were.

Before I left for school, and those few times I came back.

I came looking for you…but you knew that, didn't you?

Yet you hid away like a scared little boy.

I could never figure out why though, and then…it hurt too much, so I stopped caring about why.
His gut clenched at the obvious pain in her words.

Her hurt slicing him deep.

She hadn't been the only one to suffer.
"You're right, I won't lie.

I hid.

I wasn't going to be selfish again.

You had your whole future ahead of you."
"You're right, I did…still do.

But that wasn't your problem."
"Oh really?

Then please, if you know so much about me, enlighten me."
"I know a lot more than you think, Ethan.

Unlike everyone else here, I know the real you.

I see you, who you really are.

You are stubborn, pigheaded, and opinionated."

Harper took a calming breath.

"You are also kind, selfless, you do the little things that no one sees.

You will be the best support system any one could ask for, but you're constantly terrified of letting people down, so you help them without letting them know.

People call you selfish, they say you're hard to get along with.

A hardened cowboy."

Harper laughed lightly.

"But you just don't want them to know.

No pressure or risk of failure then.

Like the time Kade decided he could tame that thoroughbred your parents had brought.

He had been so desperate to prove himself, and your dad had been so hard on him.

He had set Kade up to fail, but you wouldn't let him."
"Yes, Ethan," she said softly, closing the few inches that remained between them.

"I know you stayed up late every night working with her.

Got up before everyone else to train her.

All the while Kade worked with her during the day.

Everyone had been amazed, your father shocked, and Kade was so proud of himself.

I doubt even now he knows what you did for him, does he?"
How had she known?

No one was supposed to know.
His question must have been written on his face, because the smile she graced him with was both beautiful and full of emotion.

Her hands came up to cradle his face, and damned if he could fight it.

"Because I see you, Ethan."
But wait!!! They brought more gifts to the party!
From Avery Gale:
Sparkly new stuff....not even back from first edits yet.
Saving Grace - The Masters of the Prairie Winds Club Book 2
Tobi West leaned back against a glass display case and took in all the activity surrounding her. She'd been watching things unfold during the entire evening and she couldn't help but wonder what the hell was going on. It had only taken her a few minutes after entering The Forum Shops to know something was definitely up. Her husbands were both acting like cats dancing on a hot tin roof. She didn't know why they seemed to be suddenly "on alert" but she'd noticed a change in them after their late afternoon meeting with some Costa Rican playboy. Before they'd given him a tour of Prairie Winds they'd been totally relaxed and jazzed about the Grand Opening.
There were several more people working security than they'd originally scheduled and neither Kent nor Kyle had left her side since they'd come downstairs from their living quarters above the club. Hell, they'd even followed her to the restroom. Tobi could see that her friend Gracie was beyond flustered, even though most people would probably never notice the small tells that indicated how truly "rattled" the ultra-efficient woman. But she and Gracie had been friends for a couple of years now, and those subtle changes were easy for Tobi to spot.
Each time she'd ask Kent or Kyle what was up, they'd all but patted her on top of the head and told her not to worry. Yeah, like that's gonna be effective. Sometimes having two Doms for husbands is a serious pain in my ass. Treat me like I'm a dim-witted three year old…that just frosts my fanny. If there was one thing she didn't tolerate well it was being treated like an incompetent child. Maybe it's time to pull out the big guns. Scanning the crowded space, Tobi looked for Lilly. Her mother-in-law was quickly proving to be her biggest ally and staunchest supporter, and Tobi had no qualms at all about recruiting her. When she spotted her secret weapon on the other side of the courtyard she was mid-stride when a sharp swat on her ass brought her to a dead stop. Kyle pulled her back against his chest and wrapped his arm around her in a move that was clearly meant to anchor her close, and darn it if it didn't send a flood of moisture to her mutinous pussy. His arm pressed her breasts up until Tobi was worried they might actually pop out of the corset top she was wearing. He leaned down and spoke right against her ear using a voice that was pure sin set to sound. Drown me, he knows that turns my knees to jelly and makes me wet. He also knew that she was completely bare under the short skirt she was wearing since he'd been the one to relieve her of the new panties she'd put bought for this evening's opening. He had turned her over his knee and spanked her soundly for wearing them too. Although the orgasm he'd given her hadn't done much for ensuring the spanking could actually be viewed as a punishment. "Where do you think you are going, kitten?"
"I was going to speak with your mother." Even she could hear the breathlessness in her voice, so there wasn't a chance in heaven or hell that he'd miss it.
"Kitten, don't think I don't know you're going there to enlist her help. You've already ask both Kent and I several questions about what's going on, so let me save you the effort, love. Our mom is not 'in the loop' as you say, and we've already promised to tell you everything later. So, for right now I suggest you keep your lovely pink ass right here or I'm going to give a little impromptu demonstration on all the ways to discipline a bratty sub outdoors." Her breath caught and she heard him chuckle. The louse was playing with her. Well, two could play that game. She subtly rubbed her tender ass in a slow figure eight against the hard length of his cock pressing back just enough to elicit a hiss from him. When she smiled sweetly over her shoulder at him he grasped her chin and caressed her bottom lip with the pad of his thumb. His smile was suddenly much more sinister looking and his words were almost growled. "Oh lovely wife of mine you are playing with fire." If she couldn't go gossip with Lilly she fully intended to use up a whole box of matches. Sure she knew there would be consequences, but that was part of the fun.
T
urning her head even further so that she could give him her most seductive look, she winked and let her inner Mae West bubble right to the top. "Count on it big boy." The look on his face was absolutely priceless and Tobi would have given anything to have a picture of the moment.
Now it's time for me to blow out the candles
for my own Valentine's Cowboy!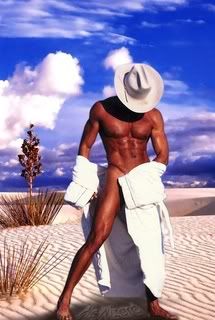 Book Release Giveaway!
Cowboys & Candy was released on my birthday week,
so I'm going to give away two (2) ecopies!
1 winner will be chosen on Rafflecopter.
1 winner will be chosen from comments. Be sure to leave an email contact.
Contest ends midnight, Feb. 13, 2014,
a Rafflecopter giveaway