Day 3 of Nominations
This could be anyone from Mr. Darcy to Rhett Butler to last year's winner Ethan Grant
July 1-4
Return each day to nominate
Type name in Rafflecopter box
You can give a shout out in the comments section, if you like
Each nomination = 1 entry for the Grand Prize
July 5-6
Return to vote on the ballot
Top 10 nominees will be on a ballot
Your vote = 1 entry for the Grand Prize
Complete rules and prizes are listed on the event page.
Curious to know who has already been nominated?
Each night, I will list all the names nominated that day, too.
CLICK HERE


In addition to the FDNY 2015 calendar, there are also books from 29 authors
Here's a taste of some of the yummy hotness in the Grand Prize.
******************************
Heather Rainier:
author of the wildly popular Divine Creek Ranch series about a Texas town where menage couples and cowboys go hand in hand.
Prize:
an eCopy of Awakening Veronica
Last year's hottest male winner was Ethan Grant from Divine Grace. A hot male cowboy that could two-step you into an orgasm, super hot in the bedroom, and can play a mean guitar. This year the Divine Creek Ranch fans met Sheriff Hank Stinson up-close and personal. A man's man, a protector of women, children, and the community---and a force to be reckoned with behind closed doors. The man knows how to use his handcuffs, and he can lock me up anytime!
******************************
Sable Hunter:
author of multiple erotic and romance series, such as Hell Yeah!, Hell Yeah!:Cajun Spice, Moon Magick, Texas Heat, and Hill Country Heart
Prize:
Kindle ebooks of Come With Me: A Red Hot and Boom! story and Cowboy 6 Pack (six novel boxed set)
Hell Yeah! is another series filled with hot men where right prevails, love conquers all and holding out for a hero is not an impossible dream. the hero in Cowboy Heat, found in the Cowboy 6 Pack, is Aron McCoy--Alpha older brother on his family's Texas ranch. In her latest release, Come With Me, Sable brings us Jake, a man working with his hands, doing some heavy lifting, his body gleaming with the sheen of exertion. With over two dozen books filled with heroes who like to work with their hands, that's a lot of hotness.
******************************
Jaden Sinclair:
paranormal and contemporary erotica author of 5 series: Shifter, Bloodmate, Guardians, Tales of the Forbidden, and I Get What I Want
Prize:
(kindle ecopy) Falling into You, book 1 of I Get What I Want series
Another version of a hot male is a guy who's not afraid to admit he was wrong. It is a rare breed, so snatch him up when you can. In Jaden's recent release, Vinny is on a mission to show her just how wrong he was and how far he'll go to prove they belong together. Who doesn't want to be chased by a hot man???
******************************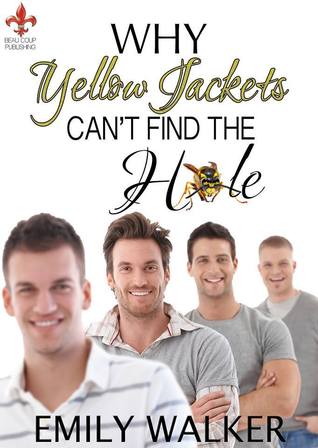 Emily Walker:
author of horror, paranormal, dystopian, and the occasional rom-com
Prize:
Kindle ecopy of Why Yellow Jackets Can't Find the Hole
Or perhaps what you find hot is doing the chasing? A man with some mystery, who presents a challenge. In Emily Walker's new release, these men have pledged celibacy---and that makes them the hottest men on the market! Especially when he comes with deep dark secrets.
******************************
Izzibella Beau:
author of the Assumption series, where there is more drama and heated romance than a soap opera
Prize
: kindle ecopies of Broken and Barely Breathing, books 1 & 2 of Assumption
Who can forget their first? He is most likely the male that all future men will be measured against. Author Izzibella Beau takes you back to that first young love, when having him by your side was enough to conquer the world.
******************************
Prize
: eBook of Zander's Story
Of course the best part of love is finding that place where you finally belong. In Zander's Story, Hennessee shows a man who has searched for his place, never expecting to find someone that would accept him and love him. When hot rancher Dean shows him how wonderful it can be, he is finally coming home.
******************************
Elliot Richard Dorfman:
a paranormal romance author
Prize:
To Be Yours Forever (kindle ecopy)
Heck, even time can't keep a woman away from the hot man that she is supposed to be with. In Dorfman's To Be Yours Forever, time travel allows the reunion of two lovers. Think of all the mistakes you could correct, the one that got away that you could catch and keep--if only time travel was real. Which hot guy would you go back to visit. For me that's easy: James Dean.
******************************
Come back tomorrow to see more hotties found in the Grand Prize basket!!!
If you missed Day 1 and 2, just scroll down to see what you missed.
DAY 3 NOMINATIONS
Write your character's name in the rafflecopter box.
You can give him a shout out in the comments below to show him your love, but only rafflecopter names will be counted.
Come back tomorrow to nominate again.
Remember: The top 10 names make the ballot for July 5-6 voting.
Rafflecopter is still having some lag issues. Let me know in the comments if you have trouble so I can add your vote manually.
a Rafflecopter giveaway