Day 2 of Voting
Voting ends at midnight 12-13-14
Let's Get This Rodeo Started!
My favorite hottie cowboy is Taylor Cole. He was so much fun to hang out with at the Wild Wicked Weekend in San Antonio. He then went on to win Caveman of the Year. Yummy!!! And I can see why. After attending three different Romance book conventions in 2014, Taylor was the nicest, most approachable of them all. He kept us laughing and smiling the whole time. It couldn't have happened to a nicer guy. Did I mention he was a hottie?
All the nominees for Hottest Cowboy Character are listed in the Hottest Cowboy tab in the top toolbar.
Or you can click here.
70 Hot Cowboys were nominated. Who will you vote for? Voting runs today and tomorrow, Dec. 12-13.
Before we get to the TOP 10 Finalist, I would like to congratulate all the cowboys and their authors who were nominated.
Honorable Mention #11-20
Ethan Grant, Divine Grace, Divine Creek Ranch, Heather Rainier

Boone Warner, Maya's Triple Dare, Divine Creek Ranch, Heather Rainier

Ryan Easter, Cowgirl Crazy, The Cowboy Way, Becky McGraw

Victor "Tricks" Michaels, Marine of Her Heart, Massey Texas, April Zyon

Jacob McCoy, On Her Trail, Hell Yeah!, Sable Hunter

Ben Grady, Slow Ride Home, Grady Legacy, Leah Braemel

Grant Stovall, Colorado Fire, Colorado Heart, Sara York

Isaac McCoy, Badass, Hell Yeah!, Sable Hunter

Joshua Carver, Finally Forever, Massey Tx, April Zyon

Reno Montgomery, Texas Bossa Nova, Texas Montgomery Mavericks, Cynthia D'Alba
When the dust settled, these 10 Cowboys were standing tall.
in alphabetical order, I present the
TOP 10 FINALISTS for HOTTEST COWBOY
Aron McCoy has sworn off women - except for sex. When Libby Fontaine arrives at Aron's Tebow Ranch, she is determined to cram a lifetime of living into a few short months. The doctor has told her that she can't count on her remission from leukemia being a permanent one. Their attraction to one another is instantaneous and overwhelming. But when Aron finds out that Libby is innocent - he backs off. He has nothing to offer a girl who deserves white lace and promises. Then Aron catches Libby pleasuring herself in his stock tank and hears her cry out his name - and the heat is on.
Heavenly Angel, Divine Creek Ranch
Angel Martinez has worked patiently for months to draw the fragile beauty out of her shell, wooing her with gentle kindness and falling for her delightful two-year-old in the process. Teresa left her painful past behind and built a new life for her and her son. She cares deeply for Angel, but is afraid to let down her guard. Just when she thinks she might be able to handle the flirtatious Divine Creek Ranch foreman, a holiday visitor arrives and throws her for a loop. Fresh from a one-night stand, self-confessed 'rodeo slut' bull-rider Joaquin Martinez shows up at his brother's house Christmas Eve, and finds out for himself what love at first sight feels like. She could barely handle one. Now she's got two Martinez brothers after her. Can she forget the past and fall for both her heavenly Angel and his handsome, devilish brother?
For fifteen years Carson MacDonald has been thinking about the woman that had vanished from his life without a trace. Working his family ranch has kept his days busy but his nights are too long and empty without her there. Carson never forgot his first and only love, no matter how much he tried.

Jennifer MacElroy did what was needed to survive after having her heart broken. But fate is a fickle thing and she's forced back to her birthplace to take part in training for her newest movie role. Unfortunately it's on Carson's ranch. If she's lucky the new persona she's taken on as Monica will help her fly under the radar. What she hadn't counted on was her daughter.

A few hints, a couple of clues and these two are facing off once more. Will they get beyond past hurts or will they lose one another again.
Love Under Two Quarterbacks, Lusty, TX
Ari Stein is certain that romance is nowhere in the cards for her. Carrying the scars from a traumatic childhood, she's wandered, rootless, until she landed in Lusty. Now her restless spirit has calmed and for the first time since she was teen, she feels safe and at home.

Twins, Cord and Jackson Benedict, have built rather amazing careers in the NFL, earning themselves the moniker, "The Wonder Twins." Then Jackson takes a hit in training camp and it's time to start over.

Grandma Kate convinced them to come to Lusty and meet this side of their family. One look at Ari and they know they made the right move—and once they see the way the Lusty branch of their family lives, they know what they want their future to be. Will they succeed in getting Ari to open up and trust them? Or will a specter from her past, and an annoying little pissant from theirs, stop them from finding their happy ever after?
Dean Dixon
by Becky McGraw
Tina Montgomery needs to find her Texas Tomcat. Her promotion and livelihood depend on it. That promotion could mean a new life for her, her sister and her niece. It's a big risk however, because if she fails in her bid to head up a new menswear line at her company, she could lose everything. That's why finding the perfect model to represent the line has become her sole focus. At the point of thinking she would …never find that man, one with both experience and attitude that shows in his face and eyes, she meets Dean Dixon. His gorgeous eyes tell a story she definitely wants to hear and the man has more attitude than any she's ever met. Physically he's perfect for the job. But that attitude she thought she wanted in her cowboy quickly becomes her biggest downfall when she tries to convince the sexy, but hard-hearted rancher to help her.

Dean Dixon is done with women. His cheating ex-wife has shown him just how untrustworthy women are. He has a ranch to run, and a son who might not be his to raise alone. That's more than enough for any man to handle without dealing with his sister-in-law's friend who is determined to convince him to model for her company. He has seen what that industry has done to his brother. Dean is a rancher, not a model, and he isn't about to abandon his family or fall into the same trap his brother had. He stands his ground, until his sister-in-law tells him why Tina needs the promotion she's wanting so badly, and asks for his help. Hope had bailed him and his family out when they needed her the year prior. How could he refuse to help her now
Heath McCoy
How to Rope a McCoy, Hell Yeah!
by Sable Hunter
Is Texas big enough for more McCoys? Hell yeah! Heath McCoy, the oldest cousin of Aron and his brothers spends his days championing his family. He is no stranger to heartbreak, the woman he loved left him at the altar. From that moment on, Heath developed a new attitude - love'em and leave 'em wanting more. Until he meets Cato. Cato is determined to experience all life has to offer. She is deaf, yet very adept at listening with her heart. The moment she lays eyes on Heath, she knows he's the one man who will mean the world to her. But Heath doesn't want forever, he wants a fling. So, Cato decides to give him what he wants and hope he falls in love with her in the process. She takes a gamble on love and the stakes are high. How do you rope a McCoy? Very carefully. How do you keep him tied? With love.
Crewel Work, The Tapestry
Blurb
A successful race horse farm's trainer is key and William Becker was going to make certain that losing that key neither in the wake of a broken heart involving his daughter nor the sinister acts of another employee was not going to happen to his farm, his legacy.

J.P. Ryan came from little and was left alone in the world at a vulnerable age. The offer to apprentice as a trainer for a prestigious race horse farm had been a fortunate opportunity. But when a jealous barn hand turns sinister and J.P.'s faced with the choice to risk throwing away four years of apprenticing, a place to live and daily meals over his boss' seventeen year old daughter or to forget about her, the beautiful, sweet girl he wanted, J.P.'s dream job became cruel work.
Jackson's Sub, The Doms of Club Mystique
A year ago Jenna Parnelle spent one night of passionate submission with Jackson Ramsey before he sent her away. He believed his jealousy would destroy their relationship. She believes he was slumming with the chubby girl from the poor side of town. A year later, irresistibly drawn to each other, Jenna agrees to be Jackson's sub for three weeks, intending to get him out of her system once and for all while refusing to risk her heart again.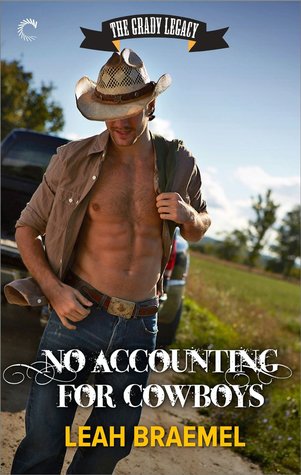 Jake Grady
No Accounting for Cowboys, The Grady Legacy
by Leah Braemel
Jake Grady loves Bull's Hollow ranch and all the challenges and hard work it entails. But the past year hasn't been easy—his father's good name has been tarnished, and new financial problems are threatening to destroy everything the Gradys have built. Performing live under a stage name has become his escape, a way of blowing off some serious steam.

Accountant Paige Reynolds found Jake's guitar-playing alter ego intriguing, but her connection with the real Jake sends her attraction into overdrive. When she's summoned to make order out of the chaotic paper trail at Bull's Hollow, he sets her world a-rocking—both in bed and out. But Paige has a plan; she's determined to create her own path for the future, but is soon left scrambling for firmer ground.

Good news about Jake's potential singing career is followed by the revelation of another family secret, one that has him questioning whether he belongs at Bull's Hollow at all. But leaving the ranch would mean leaving his family…and Paige. How much is he willing to give up for a real shot at fame?
Roger Burke
Colorado Fire, Colorado Heart
by Sara York
Marshal has it bad, but can he figure it out before he ruins his relationship with his best friend, or will he mess up the one good thing in his life.

Zander doesn't know if he's coming or going. Life at Wild Bluff has been easy up until now. His head is spinning and his heart is aching. Can he figure out Marshal's mess before it puts them both in hot water?

Grant Stovall is in too deep. Should he turn to or away from Roger Burk? If only the answers were easy, and he could be sure. Craig is back in town, ready to serve a burn notice, destroying everything the men of Wild Bluff hold dear.

Colorado Fire is the second book of the Colorado Heart series.
Before I start the voting,
I'd like to give a big Howdy
to all of our Prize Basket sponsors!
Grand Prize Basket #1
a Rafflecopter giveaway