Divine Creek Ranch #18
by Heather Rainier
an Erotica Menage Romance
from Siren/Bookstrand
BLURB

Charity has adored Justin since he stole her heart twenty-two years ago and together they've built a steadfast love. She'd do anything for him, except ask for her deepest desire, because the risk of hurting him is too great.
The day he claimed Charity's heart, Justin swore he'd never share her love, but time has given him a new perspective. Despite her attempts to hide it, Justin knows Charity has always loved his cousins, Val and Ransome. Now older and wiser, he wants to give her the same fulfillment her sister Grace enjoys with the men she loves.
Seeing so many ménages in Divine gives Val and Ransome hope, and when fate offers them an opportunity they seize the chance for a future with Charity. When an innocent victim from their past adventures reaches out to them, they provide safe haven, not knowing that doing so will ultimately place the woman they love in danger.
EXCERPT
Val saw the mischief gleaming in her eyes as she stared at him and Ransome while whispering to Justin. He whispered back and then nipped her lower lip and smacked her bare ass. An amused chuckle rumbled from his chest as she climbed over him and stepped toward the French doors that led into the bedroom. She licked her lips and nodded at Justin. Val and Ransome turned questioning looks on Justin and he said, "Did I ever tell you about one of Charity's favorite fantasies anytime we're camping?"
"No."
Justin smiled and said, "She has this thing about being chased."
Charity nodded as she backed toward the stairs that led down to the yard and the woods beyond. "Did you think I was just going to fall into your arms, boys? If you want to keep me…" She looked beyond them to Justin and gratitude glowed in her eyes before she darted into the shadows, calling, "You have to catch me first!"
Justin laughed at the surprise on their faces. "Better get after her, guys. She's fast and sneaky. If you can catch her, take good care of her. Meet you in the house later."
Val and Ransome erupted from their chairs and charged for the stairs. She was barefoot and he was a little concerned about her getting hurt. Chasing her with a hard-on was going to be a bitch and he contemplated whether he'd nail her the second he caught her or spank her ass while carrying her over his shoulder back to the house.
They listened for sounds of activity before taking off at a rustling sound in the distance. They spooked a deer and a flock of birds but didn't find a trace of her. After several minutes of searching, they heard a shrill whistle from the direction of the house and the sound of amused female laughter.
"Shit!" Ransome stopped in his tracks. "How did she get past us?"
"She must've waited for us to pass her on the trail." They both headed back to the house at a dead run.
~~~~~~~~~~~~~~~~~~~~~~~~~~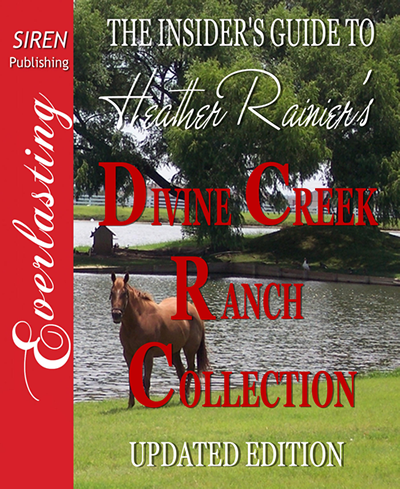 Fans of Divine Creek Ranch have loved Charity and Justin since book 1 of the series. Her sister Grace's "No Regrets" attitude has barreled through 18 books, encouraging the citizens of Divine, Texas to seize the day and reach for they want. While you wait for Charity's turn, take a moment to reminisce about the other couples and their history by checking out the Insider's Guide.
How to Find Heather Rainier books
_________
Contest
Win an ecopy of Divine Charity by Heather Rainier before you can buy it.
Contest ends June 18, 2014 midnight.
Don't forget the Comment question
Biker vs. Cowboy: What's the best ride?
a Rafflecopter giveaway