Time to find the Hottest Male in Literature
Voting will be open July 4-5
Your vote also counts as a entry to the Grand Prize Giveaway.
80 Male Characters were Nominated.
Before we unveil the TOP 10
Angel Garcia, Prince of Punk Rock, Radical Rock Stars, Jenna Galicki
Master Z, Club Shadowlands, Masters of Shadowlands series, Cherise Sinclair
Roman Freemont, Rough Ride Romeo, Cawley Creek series by Lori King
Aiden McKenzie, My Commander,

Bewitched and Bewildered series

by Alanea Alder
Jesse Murdoch, You Only Love Twice, Masters and Mercenaries series by Lexi Blake
Fury, Fury, New Species series by Laurann Dohner
Colton Donovan, Driven, Driven series by K Bromberg
Jack Warner, Divine Grace, Divine Creek Ranch series by Heather Rainier
Roland Warbrook, Darkness Dawns, Immortal Guardians series by Dianne Duvall
Ian Taggart, Love and Let Die, Masters and Mercenaries by Lexi Blake
And now for the TOP 10
in Alphabetical order
Adam Kendall
Love Under Two Kendalls, Lusty, Texas
by Cara Covington
After months of gentle wooing, Adam and Jake Kendall know their sweet Ginny Rose is on the verge of saying yes to a romance with them. But then her former abuser escapes from jail, and suddenly, all bets are off.
Ginny can't reason through the terror that grips her when she learns Deke Walters is free. He threatened to kill her and her son Benny—and Ginny will do anything to keep Benny safe.
Adam and Jake assure Ginny that they can keep her and her son safe, but Ginny has had enough of feeling like a victim. Besides, how can she stand tall and behave like a whole woman when deep inside, she knows the wounds she suffered never truly healed?
Bold action is required, and Ginny finds her courage, but will that discovery cost her the love of the men she knows she can't live without?
Dominic Mason
Goal Line, Darmouth Cobras series
By Bianca Sommerland
Captain of the Dartmouth Cobras hockey team, Dominik Mason, believes his team can make a damn good playoff run. He and his men won't stop fighting until they win the ultimate prize. There's no doubt when it comes to The Game.

Off the ice, there's nothing but uncertainty. His life has been in a holding pattern and it's time to move on. Which might be easier without the lifestyle that has lost its appeal. As much as he loved training subs, he's tired of giving his all only to go home alone.

Tragedy once brought him closer to Sahara Dionne, the exquisite, yet fragile Ice Girl, but when her abusive-ex darkens her path once again, Dominik can't help but wonder if his friendship might not be the best thing for her.

But she craves his touch, his dominance, and his possession. Everything he desires is finally within his reach.

All he has to do is take the shot.
Drakkar Aban
Sinful Surrender, Psychic Ménage series
by Houston Havens
On the run, branded a traitor by her government, Fay Avalon has to depend on three brothers for shelter. Sinful Surrender is Book 1 of Houston Havens' new romance series, Psychic Ménage. Why be tempted by one man's seduction when you can be loved by three? Top psychic spy Fay Avalon saw too much on her latest mind traveling mission and is now on the run from her post-catastrophic dystopian government, searching for the truth and proof. She escapes but is shot down, landing in the arms of the enemy.

In Drakker and Arlo's world, women are so rare the men have accepted a polyandrous lifestyle. When the brothers stumble upon Fay unconscious in the wreckage of an aircraft, they are immediately attracted to her. Arlo wants to keep her, but Drakker knows they can't. They must take her to their brother Logan Abán, leader of their people.

Logan struggles with trusting anyone, even himself. When a beautiful, intelligent, and intriguing woman falls into their laps, his denied desires for intimacy challenge his need to trust the spy. He's frustrated by romantic Arlo's claims of her innocence. Even when pragmatic and dominating Drakker defends her as well, Logan refuses to trust his gut.

Can one woman satisfy the diverse desires of three men? Will Logan's fears be realized by betrayal? Is Fay to be sentenced to death as a spy, suffer a fate worse than death by being returned to her government as a traitor, or will she find a new life and love as the wife of three sexy brothers?
JP Ryan
Crewel Work, Tapestry series
by Natalie Alder
A successful race horse farm's trainer is key and William Becker was going to make certain that losing that key neither in the wake of a broken heart involving his daughter nor the sinister acts of another employee was not going to happen to his farm, his legacy.

J.P. Ryan came from little and was left alone in the world at a vulnerable age. The offer to apprentice as a trainer for a prestigious race horse farm had been a fortunate opportunity. But when a jealous barn hand turns sinister and J.P.'s faced with the choice to risk throwing away four years of apprenticing, a place to live and daily meals over his boss' seventeen year old daughter or to forget about her, the beautiful, sweet girl he wanted, J.P.'s dream job became cruel work.
My name is Logan Steele. I'm devilishly handsome, seriously ripped, well hung, charismatic and highly sexed. Women just can't resist me. So when I lost my job in the construction industry and was struggling for cash, I decided to put my assets to good use.

By day I'm a private personal fitness trainer. By night I'm a high class escort.

I don't advertise my sexual services anymore, I have a long client list that come to me through word of mouth. I'm that good I'm booked months in advance. Scores of women pay me extortionately high fees to fulfil their fantasies. And for the most part I do. I have a strict set of rules that I abide by, which are provided in the full contract that you'll receive along with the booking form, if accepted.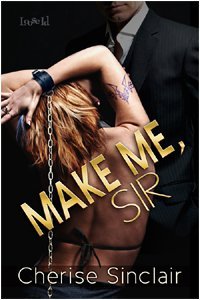 Make Me, Sir, Shadowlands series
Across the country, rebellious BDSM submissives are being systematically kidnapped, one from each club. When her friend falls prey to the slavers, FBI victim specialist Gabrielle volunteers to be bait in a club not yet hit: the Shadowlands.

She finds that being a bratty sub comes naturally, especially when she gets to twit the appallingly conservative Master of the trainees. But she soon discovers he's not as stuffy as she'd thought. Or as mean. She'd expected punishment, even humiliation, but she sure never expected to fall in love with a damned lawyer.

Courtesy of a prima donna ex-wife, Marcus loathes disobedient submissives. When the club owner insists he admit an incredibly bratty trainee, he's furious. But as he comes to know Gabrielle and sees the alluring sweetness beneath the sass, he starts to fall for her.

Unfortunately, Marcus isn't the only one who believes the feisty redhead is a prize worth capturing. And in the world of the slaver, such treasure is worth a hefty fee.
Filthy Desire, Onyx Club series
My name is Matthew Weston. Don't call me anything else, because I won't respond. And if you think you can get away with whimpering 'Matt' while I have you tied to the bed, about to devour you, it'll end up being your loss.
Men like me don't talk about feelings. We just don't.
What men like me do is pound. I pound the asphalt with my running shoes on morning runs. I pound a punching bag in the gym until my knuckles bleed. And when I need a release, I find a beautiful woman sprawled out on her bed, eagerly waiting for my cock, and pound her into oblivion. Yeah, that's me. I don't have feelings, and I don't do love.
At least I didn't, until the night Ella walked into my office looking like a disgusting junkie to interview for a position for The Onyx Club.
She was like no one I'd ever met before. She was timid, reserved, and quite plain with her mousy brown hair and dirty clothes. Ella also had a dark and haunted gleam in her eye. A secret, a past she was desperate to conceal.
And when she called me 'Matt' it didn't seem to bother me.
She came into my life and turned it upside down. The only question is, can I screw her out of my system, or will my filthy desire for her keep her by my side?
The Nik of Time, Assassins/Shifters
Colin Greystone has loved one man since he understood what love was: Nikolai Markov. But Nikolai is too young and Colin makes himself stay away. By the time he decides to declare his feelings, Nikolai has earned quite the reputation as a playboy and a badass. Colin spends years trying to forget the younger man, only to have his world flipped upside down when Nikolai Markov barrels back into his life. Colin is in danger and his fathers have asked Nik to protect him. Colin is less than thrilled to be forced into spending so much time --in such close contact -- with the man he swore he'd stopped loving.

At 20 years old, Nikolai Markov is well known as a hired gun with a hot body. But now he only wants one thing : For Colin Greystone to give him a chance. Thrust into Colin's college life -- and dorm room -- Nikolai unloads his charms on a resistant and unbending Colin. When the two of them are in harm's way, Nikolai will kill anyone who threatens his man. His other mission? Making Colin fall for him.

Can a love that began at birth survive to adulthood? Or has Nikolai's chance passed him by?
Jayne Sheridan intended to wait until her wedding night to give up "the goods." One life-threatening illness and a decade later, she's wondering if she'll ever get married and if she shouldn't just "go for it" now that she's cancer-free. Her undeniable attraction to the town tattoo artist has her contemplating getting more than a tattoo.

Seth Carter has crammed a lot of living into his years and had his heart broken in a way that he believes is irrevocable. Jayne confuses and intrigues him but he doesn't want her to look back with regrets, so he turns down her offer. He doesn't count on the onslaught of jealousy when Jayne decides to take matters into her own hands. Jayne is his.

When the past treads on his doorstep, can Seth handle unexpected blessings and protect the ones he holds dearest to him?
Prince of Punk Rock and Between a Rock and a Hard Place
Radical Rock Stars series
I love her, but I also love him.
She's everything to me.
He sets my world on fire.
It's our dirty little secret, and it's about to blow our record deal sky high.
I'm Tommy Blade, the Prince of Punk Rock, and this is our story.

Tommy Blade is a man with a secret. It's a secret he only shares with one person, Jessi Blade – and the men he surrenders to in the bedroom. Her only condition to their tumultuous sex life is that these men are one night stands. But when Angel Garcia enters his life, it's like a match to gasoline.

Mega-talented punk rock singer Angel Garcia, with his smoldering ebony eyes, tight leather pants and unstoppable stage presence, is a man who is use to getting what he wants. He has his eyes set on Tommy Blade as his new lead guitarist, and as his life partner.

Jessi Blade, sympathetic to her husband's bisexual needs, loves him enough to share him, but she never counted on Angel Garcia to test the threshold of her marriage. He makes her life hell . . . and heaven. He's her damnation and her salvation. She wants to hate him. She wants to despise him. But, his charm and raw sex appeal are impossible to resist. Without warning, she finds herself falling in love with her husband's gay lover.

At the height of it all, their punk rock band catapults to stardom.

Their lives are marred by secrecy, deception and sacrifice. Feelings of betrayal, backlash from the sensationalistic media and threats of blackmail send them down a hard road filled with tough decisions.

They aren't your ordinary rock stars. They're radical rock stars. And they have a big story to tell.
a Rafflecopter giveaway