The
Texas Book Festival
is a literary event for all ages and all genres held on the last weekend of October. It is the 5th largest book festival in the US, founded by Laura Bush in 1995, when she was the wife of then Texas Governor George W. Bush, inorder to promote reading, local authors, and the state's public libraries.
This weekend, the Capitol grounds once again hosted the event. In addition to over 200 author presenting on panels and signing, there were five tents of publishers and book programs. Saturday evening included a Lit Crawl complete with music, film, gin, and cemetery reading by RL Stine.
Tink and I began our festival fun Friday evening at a cocktail party at The Book Spot, a local bookstore which hosted
The Writer's Coffee Shop Publishing house
. Ten of their authors discussed their books and mingled with readers.
Alexandra Allred
,
Gene Douchette
,
KB Boyle
,
Lissa Bryan
,
Lorenz Font
,
Michael Schneider
,
Sandi Layne
,
Sherri Hayes
,
T.M. Franklin
, and
Tara Ellison
.
On Saturday, we walked the tents and visited with writers and readers. We bought books and posters and picked up fliers and samples for more. Tink had to find me a bag to keep from dropping all my stuff! Great food and music also filled the common areas. I wish there had been more romance authors this year, but there's always next year. There were a few dystopian YA authors and several contemporary authors, as well as a few presidential historians. I loved the cooking station, where the author showed the audience how to a cook recipe (which the main ingredient was bourbon).
Sunday is another day of author and reader fun, so if you are in the area---come on down!!!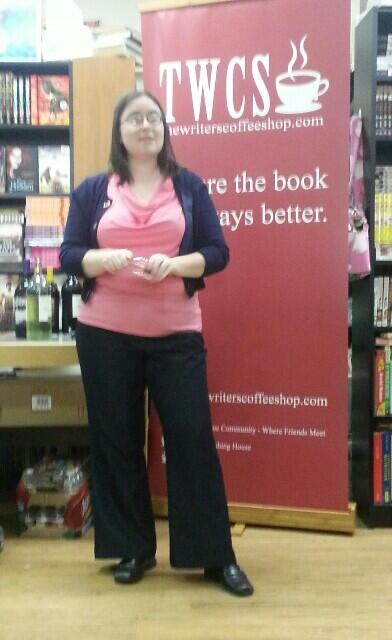 Sherri Hayes speaks about her books at the Book Spot