In January 2013, the Inner Goddess Forum added a new feature: the blog. TinkNCognito and pearls wanted to provide a spot on their forum to help promote the authors they had been working with on the Forum and the Goodreads group. In the 2 years hence, we have added more readers and authors to our family of goddesses and gods.
On the same month, we opened the twitter @InnerGoddesses and the FB Inner Goddess profiles. Both are on the cusp of 2000 Friends/Likes. With all these great milestones, of course, we had to host a party!
Join us this weekend as we celebrate! We will be posting excerpts for you to enjoy while you sign up to win prizes from the authors. Each author has donated 2 items, one for each Grand Prize to be given away.
Visit us Jan. 30, 31 and Feb. 1 for more excerpts and prizes.
Enjoy! And thank you for the hours of enjoyment!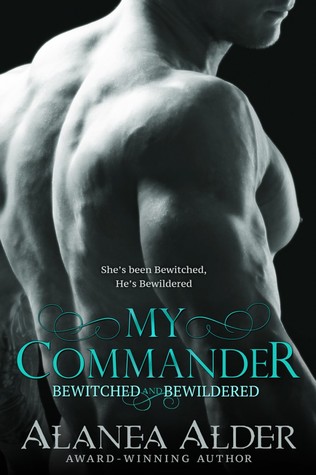 My Commander
My Commander
Bewitched and Bewildered #1
Author Alanea Alder is an Inner Goddess fan favorite! Her series Kindred of Arkadia and bewitched and Bewildered have won multiple awards in our annual Best of the Year Angels & Demons contests.
Alanea is giving away 2 signed copies of My Commander.
Blurb
Aiden is adamant that he doesn't need a mate and that they would only get in the way, little does he realize Fate is sending him his mate first! He meets his destined mate Meryn Evans and things go downhill from there. In the first twenty four hours she kicks, screams and knocks her bear shifting mate unconscious. They eventually discover that life before finding each other may have been good, but life afterwards is perfect, even if it involves super soaker battles and accidentally discharging hand grenades.
Gavriel followed behind Aiden as they walked into the store. He wanted to pick up the chocolate for Beth and he was dying to see what advice the old man had for Aiden. Walking behind his commander they approached the register where the aged man sat flipping through an old Bass and Guns magazine. The older man's face brightened when he saw Aiden approaching.
"Well look what the cat dragged in. Been awhile, son. Surely you don't need more feminine products, considering how much you bought last time you was here."
"Sir, I…" Aiden began. The old man held up a wrinkled hand.
"My name is Bartholomew son, you can call me Bart. I have a feeling I'll be seeing a lot of you, we might as well be on first name basis."
Aiden thrust his hand out giving the old man hand a thorough shake.
"My name is Aiden McKenzie, this is my… friend Gavriel Ambrosios." Aiden pointed in his direction. Gavriel nodded.
Bart nodded back and turned to Aiden. "Okay son, what's yer question?"
"What do you buy a woman to get back on her good side when you've made her really, really angry? Cake? Fudge?"
The wrinkles on the old man's face scrunched together as he frowned.
"How angry did you make her boy?"
"She set my car on fire."
The old man blinked and then began to laugh. He laughed so hard that he began to hack and wheeze. Gavriel thought for sure that Aiden had killed the gentleman. Holding his stomach the man continued to laugh as he reached for a pen and piece of paper. With a shaky hand he scrawled something on the paper and thrust it at Aiden. He exhaled and wiped his eyes still chuckling to himself.
Aiden looked at the paper. "Is this a place that sells good chocolate?" he asked.
"No son. That is the address where they sell jewelry. Chocolate can fix a lot of things, but it's not the embodiment of kitten angel tears if you know what I mean. If yer woman set your car on fire, then son, the only thing that can help you at this point is something shiny." The old man rubbed his rounded belly and began to chuckle again at Aiden's chagrin.
"Come on sir, I know that place he is recommending, they do sell nice pieces there. How about you go wait in the car while I buy these candy bars." Gavriel sympathetically pat Aiden on the back before the commander trudged back to the car. Gavriel turned to face the old man.
The old man watched Aiden leave, scratching his stubbled chin. "His woman really that feisty?"
"You have no idea."
"What a lucky bastard."
Gavriel shook his head. "Mine's feistier."
The old man shook his head and rang up the candy bars.
"I have a feeling I'll be seeing more of you boys."
Gavriel picked up the bag. "You're probably right."
Whistling he walked out of the store to meet up with Aiden.
Our next guest is author Renea Mason.
Renea Mason has been on the blog several times with her Symphony of Light series and on the Inner Goddess FB page
Renea is giving away 2 ecopies of Curing Doctor Vincent.
(Mobi format only)
One kinky doctor + one indecent proposal = one life-changing week in Paris


Torn between gratitude for saving her sister, her attraction for the powerful man and compromising her pre-conceived notions of sexuality, she must decide if it's easier to feed his desires or walk away. Until she devises a plan of her own.
"I'm asking you to surrender to five days of passion. To discover physical delights you've never known and will never know again."
I stared at the doctor, at the photos, then back again.
He pointed to the page. "I want to watch those two men ravish you under my direction."
It had to be a joke or one of those "gotcha" reality TV shows. He couldn't possibly be serious. "I'm not a prostitute!" I stood, readying to leave.
"Of course you're not." He stood and grabbed my hand. "I didn't mean to imply that you are. You'll notice I've made you no promises. There isn't a promotion or prize for doing this. I'm simply hoping you'll choose to indulge me. There is something about you, Elaine. I would work to seduce you, if I was capable of it, but this is what I have to offer."
I pulled my hand out of his. "This is crazy! You want me to sleep with these men so you can get off watching."
"No. I want to tell these men how to touch your body so that I can bring you pleasure. It will be me making love to you. I chose them to make the experience as stimulating as possible. Understand, in all of this, it's me who is in charge; it's me you'll be intimate with. Those two men will be an extra set of lips, an additional tongue, another cock at my disposal to make you writhe."
His words did things to me—a strange, hot seduction.
"Ever make love to two men at once?"
Our third excerpt today comes from an author that has supported every event we have hosted. We have loved watching her career grow!
HOW LONG WILL I LOVE YOU
by Iyana Jenna
Published by Evernight Publishing
Genre: M/M Contemporary Romance
Iyana is giving away 2 copies of her ebook,
How Long Will I Love You.
Blurb:
It might look weird for a musician to *fangirl* another musician, but Ed Finley didn't give a damn. He adored and had a crush on singer and pianist, Gavin O'Malley—to the point of sticking O'Malley's pin-ups all over the walls of his room. Ed thought his dream had come true when he was scheduled to perform together with his idol on stage.
Gavin O'Malley thought Ed was okay when they ended up being together that night. The night meant everything to Ed, while it was only another one-night stand for Gavin.
Ed decides to stay away while Gavin, after rejecting Ed, couldn't stop thinking about the other man. Will Gavin get a chance to tell Ed his true feelings?
Excerpt:
As soon as he got to L.A., Ed realized the mistake he'd made. Everything reminded him of Gavin, especially the invites to small jam sessions and dinners with fellow artists. He'd tried to avoid them all, but Nina, his assistant, kept reminding him not to miss those occasions.
"Don't you see that I'm a human being, too? I'm tired, okay?"
Instead of answering, Nina squinted at him before she thrust an envelope at him.
"What's that?" Suspicion crept into his heart.
"A live awards ceremony. Music awards. Next week."
"Oh." He took the invitation and looked at the card. It was a national show and it was going to be aired live on a major channel. It was a big deal. He glanced back at Nina. "Am I a nominee or something?" That was impossible. He'd have found out right away if he was nominated in a category. "Or am I going to present an award? How did you get this invitation?" Nina knew very well this wasn't his type of thing.
She chuckled softly. The traitor.
"Relax. I didn't have to kiss someone's ass or get down on my knees for this. You're an online phenomenon, Ed. They knew they'd get more publicity if they had you at their show."
Ed wasn't particularly afraid of what Nina would do if she wanted something, though he did worry about her sometimes. She'd do anything to get the things she wanted. But this was going to be a huge event with hundreds of celebrities. It was harmless. Safe. Even if Ed saw him there, he could easily slip away and hide. He sighed.
"All right. I'll go."
"Yay. I'll RSVP."
Ed rolled his eyes as he turned his back on a delighted Nina, who was already on the phone.
The invitation ruined the plan he'd made. Without Nina's knowledge, he'd made a reservation to rent a cabin on a vineyard resort he often went to in Northern California. He needed fresh air and a place to clear his head. He'd thought being in L.A. would help, but the feeling that he could run into Gavin in any corner of the city kept haunting him. The shame—Ed could not get rid of it. He was lucky Gavin hadn't talked to a tabloid about how Ed Finley literally threw himself at him and thought he had a chance to be Gavin O'Malley's boyfriend.
A week or so on the vineyard would do him good. Too bad Ed had to postpone it now. He took a shuddering breath and cooked up another plan. The minute he left the award show, he would be on his way to escape to Moonshine Valley.
Nina walked ahead of Ed on the red carpet. He smiled inwardly at the sight of her—a diminutive figure, yet looking confident and ready to take any action Ed needed her to. Tonight she was lit up in her small, bright red dress with her golden hair tied up into a small chignon. She was pretty, Ed would give her that. He wouldn't mind having her as his girlfriend if he liked girls. As it was, Ed didn't mind taking her as his date tonight, though she might have minded if he'd insisted on going in his shirt and jeans.
"Ed!"
Ed jerked his head up. "Yeah?" He had been unaware of zoning out for a second there.
Nina gestured at him impatiently, so he headed toward her. She was standing near the velvet railing with a man on the other side of it who had a microphone in his hand.
"Hi," greeted Ed. "How're you doing?"
"Can you believe it? Louis Montague from the blog Louis' Notes, himself! He wants to talk to you, Ed." Nina sounded too chirpy for his liking, and his eyes narrowed in suspicion because the girl knew him well. He turned back to the man and offered his hand. Louis accepted and shook it hard.
"Ed Finley. It's so great to finally see you."
"Hi, Louis. Glad to see you too. I hope you like my songs."
"Like your songs? I love them. They're brilliant, man."
"Come on." Ed felt positively embarrassed. After all this time, he still couldn't believe people actually listened to his work. He looked around and cursed silently when he found that Nina had disappeared.
"I'm serious. They're emotional and fans really relate to them. I can't stop listening to them. What's coming up next from you?"
"Um." Ed scratched his head, then promptly removed his wandering fingers. He'd spent more time than was necessary trying to tame his red curls, and he knew Nina would scold him for ruining them. "I write songs every night or between shows. I can't stop the ideas from coming into my head. They keep bugging me until I write them down."
"Sounds so easy for you."
"Oh no, not at all. They're raw ideas and thoughts. Mostly I still have to find the right tune for them, not to mention the lyrics and the music arrangements. Half of the raw ideas I have had have ended up in the garbage bin. Only half became full songs and just one or two of them get to be produced." Ed thought he heard Louis mutter something. "Excuse me?"
Louis shook his head. "Nah. Just—if I tried to write songs, they would all get dumped."
Ed snickered. "You don't know that. You should try writing someday if you get an interesting idea."
"I'd rather listen to yours, thanks." Louis smiled widely. "So are you going to present an award tonight?"
"No. I'll just sit tight and sweet in the audience. My pretty Nina did a good job finding me a place in there. She—" Ed waved sideways and stopped short. He gaped and his breathing became erratic. He hadn't expected anyone to be standing next to him, to be so close to him, like…like…
"Hi, Ed."
Like Gavin.
2nd Blogversary Grand Prize Giveaway
Direct Rafflecopter Link
http://www.rafflecopter.com/rafl/share-code/YThkNGM1YmYwN2RkOWUyODg5YzliMzQ1MDIxY2Y4Ojg3/
?
a Rafflecopter giveaway