The Sentinels, Book #1
by Alexandra Ivy
In a stunning new series, Alexandra Ivy lures readers into the dark, seductive world of the Sentinels—humans outcast by their hidden abilities, treading the line between life and death, good and evil, pleasure and pain. . .

In The Heart Of Darkness

Sergeant Duncan O'Conner has seen it all before. Beautiful erotic dancer, murdered at home, no suspect, no motive. But there's one clue: she's missing her heart. It's enough to make the hard-bitten Kansas City cop enlist the help of a necro--one of the dead-channelling freaks who live in the domed city of nearby Valhalla. It's a long shot, but desperate crimes call for desparate measures.

Lies The Kiss Of Death

Unlike the other "high-bloods" in Valhalla, Callie Brown considers her abilities a gift, not a curse. But when she reads the dancer's final thoughts, she senses a powerful presence blocking her vision. This is no ordinary homicide. This is the work of a legendary necromancer who controls souls. A ravenous force that will put Callie's skills to the test, O'Conner's career at risk, and both their hearts on the line. . .literally.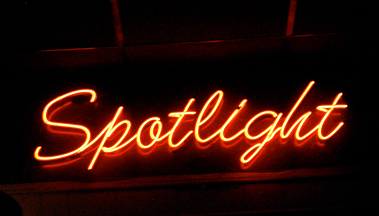 A SENTINEL LOVE STORY
"That depends," he murmured, wrapping an arm around her waist.

The light brush of her breasts against his chest was sending shockwaves of need through his body.
He wanted to strip off her sweatshirt and cup the lush beauty of her breasts.

To kiss her smooth golden skin from head to toe.

To crawl between her legs and taste her sweet honey.
Her eyes dilated, almost as if she could read his wicked thoughts.

"Depends on what?"
"Whether you tell me the truth," he said.
He reached to tug the scrunchy from her hair, delighting in the tumble of dark satin that fell past her shoulders.
Jayne sucked in a shaky breath, clearly struggling to keep track of the conversation.

Good.

He wanted her in his thrall.

So hot and hungry for his touch she couldn't speak.
"Is that a trick question?" she managed to rasp.
"Charlie was your excuse," he murmured, his head slowly lowering.
She trembled, her body soft and pliant as he pressed her against his hard body.

"What are you implying?"
His lips brushed delicately over her mouth.

Pleasure zinged through him.

Christ.

She tasted of rich, dark chocolate and female temptation.
"That you came to see me."
"You..."

She struggled to speak, her hands landing against his chest.

"Are an arrogant ass."
"Not arrogant."

He used his tongue to trace her bottom lip.

He'd fantasized about this delicious, sexy mouth a dozen times over the past month.

Now he found it was just as soft and silky as he'd dreamed.

"Hopeful," he admitted with blunt honesty.
ABOUT ALEXANDRA:
Alexandra Ivy is the New York Times bestselling author of the Guardians of Eternity series, the Immortal Rogues series and the Sentinels.
Alexandra graduated from Truman University with a degree in theatre before deciding she preferred to bring her characters to life on paper rather than stage. She currently lives in Missouri with her extraordinarily patient husband and teenage sons.
Connect with Alexandra:
Website
/
Facebook
/
Twitter
/
Goodreads
In order to enter the giveaway, the entrants will have to read the short story and then answer questions about the story at the end of the tour.

The questions will be posted in the Rafflecopter widget.
The last 3 days of blogs will post the ENTIRE

story for people that missed it throughout the tour.
First Place:
$50 GC to Amazon or B&N
Second Place:
$25 GC to Amazon or B&N
Third Place:
$10 GC to Amazon to B&N
RAFFLECOPTER LINK:
a Rafflecopter giveaway