Fans nominate characters Daily June 26-July 3
Fans vote from "Top 10" July 4-5
Winners Announced July 6

Participating fans are entered to win 1 of 2 Baskets of Male Hotness.
Each nomination & vote is an entry, so return each day!
REMEMBER: Only the 10 names nominated the most will make the ballot, so come back each day.

Authors sponsoring the Baskets of Male Hotness will be featured on the blog during the nomination week. Drop by each day to check out the prizes. You can also view the baskets Here.
You can view Promos for the authors here

2014 Hank Stinson
2013 Ethan Grant
Thank to our awesome sponsors! We have 34, so come by each day.
As you can see, we have something for everyone!!!
~~~~~~~~~~~~~~~~~~~~~~~~~~~~~~~~~~~~~~
Randi Alexander

is the author of 4 series: Cowboy Jackpot, All Cowboy, Hot Country, and Double Seduction. Randi also has books in several multi-author sets, like The Sons of Dusty Walker, and has written several stand-alones about hot cowboys, like the new release Legend Awakening.
Randi is giving away
paperback copies of all 4 books of The Sons of Dusty Walker Series: Dylan by Jodi Redford, Jackson by Randi Alexander, Killian by Desiree Holt, and Rogue by Sable Hunter
Blurb for Jackson: The Sons of Dusty Walker
When rodeo bronc rider Jackson Walker's father passes away, he's shocked to find he's not the only son of Dusty Walker. His dad had three other families at compass points around the country. When a stipulation in Dusty's will requires him to live in his dad's house and work at his company for one week, Jackson heads to Red Creek, Kansas to get it over with, so he can get the hell back to his regularly scheduled life.

Computer engineer Rori Hughes needs to solidify her position in Dusty's company, but the only one of his four sons available is Jackson, and Rori has a mighty low opinion of rodeo cowboys. Finding inconsistencies in the computer files, Rori and Jackson work together to solve the mystery, but their constant contact fires a red-hot desire that burns wild between them.

Spending their days at Dusty's opulent lakeside home, and their nights together making love, they both ignore the warning signs that point to their attraction becoming more than merely sexual. Jackson's time in Red Creek is coming to an end, but can he follow his original plan and leave town, breaking away from smart, beautiful, sexy Rori?
~~~~~~~~~~~~~~~~~~~~~~~~~~~~~~~~~~~~~~
Candace Blevins

is the author of several erotica series: Safeword, Chattanooga Supernaturals, Kirsten O'Shea, and Rolling Thunder Motorcycle Club, as well as a few other titles. She writes Hot Alpha Men in both the contemporary and paranormal worlds.
Candace is giving away
an
ebook
copy of The Dragon King: book 1 of Chattanooga Supernaturals
Blurb for The Dragon King
Aaron Drake is nine thousand years old and one of the last remaining European were-dragons. With no female Dragons, his only hope of children lies in his grandmother's dying words. "The Swan Princesses may be the Dragons' only hope."

Sophia Siyanko is the first Swan Princess without at least one brother to take the throne in Aaron's long memory. However, her father chooses her husband when she's twelve, and sets the date for her twenty-fifth birthday. She is sequestered in her father's mansion, raised by governesses and tutors to be the future King's arm candy, and Aaron's options are limited.

But then Sophia escapes her father's compound a few weeks before her twenty-fifth birthday. Determined to escape or die trying, she comes to Aaron for help.

To protect her, he'll have to fight every Swan and Eagle on the planet, most of the Wolves, and all of Faerie.
~~~~~~~~~~~~~~~~~~~~~~~~~~~~~~~~~~~~~~
Maria Elena Alonso-Sierra

is the author of suspenseful romance novels The Coin and The Book of Hours. Her men are surrounded by danger and secrets.
Maria Elena
is giving away
an e-copy of The Coin and of
The Book of Hours
Blurb for
The Book of Hours
For artist Gabriela Martinez, psychopaths do hit twice.

A LOVE IN JEOPARDY
In 1993, artist Gabriela Martinez almost lost her life to a sociopath's twisted vision. If not for Richard Harrison, the operative sent to protect her, she would have ended up dead. The dramatic showdown pushed them together, but there were too many obstacles temporarily pulling them apart.

A NEW THREAT
After catching a glimpse of Gabriela's new work, The Book of Hours, Arnold Wickeham has been like a man possessed. Now, he will do anything—anything—in order to claim it, and nothing, especially not Gabriela, will stand in his way.

THE PAST IS CATCHING UP
Richard Harrison has never given up his true love, Gabriela. Now someone new is threatening her life, and he will risk everything to protect her. But the stakes are now higher, and there is much more to lose. And, if he doesn't stay one step ahead of the danger, her life, but especially, their future, may very well go up in flames.

A LOVE TESTED
In The Coin, Gabriela and Richard were cruelly used by fate—and destiny isn't done. In the shadow of this new threat, their choices may not just save their lives, but also their love.
~~~~~~~~~~~~~~~~~~~~~~~~~~~~~~~~~~~~~~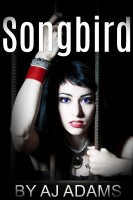 A.J. Adams

is the author of three dark erotica novels The Bonus, Songbird, and The Degas Girl.
When cartel boss Arturo Vazquez discovers his girlfriend Gina is a DEA rat and his deputy Escamilla is staging a take-over, Arturo fixes his problems by killing everyone - except for Solitaire, Escamilla's unwilling mistress. Solitaire is intelligent, tough, and shares Arturo's interest in BDSM. Arturo falls head over heels but someone is leaking information - and the evidence point at Solitaire.
~~~~~~~~~~~~~~~~~~~~~~~~~~~~~~~~~~~~~~
To enter, nominate a Hot Male character into the Rafflecopter box.
You can enter once a day, every day, June 26-July 3.
You can nominate the same or different names. Remember, the 10 names nominated the most make the ballot.
Your vote on the Top 10 ballot also counts as an entry July 4-5.
Feel free to leave shout-outs for your Hottie in the comments!!!