On Sale for a Limited Time!
Over 3000 pages from your favorite NYT and USA Today bestselling authors!
18 Novels in One Sexy Bundle!
99Cents!!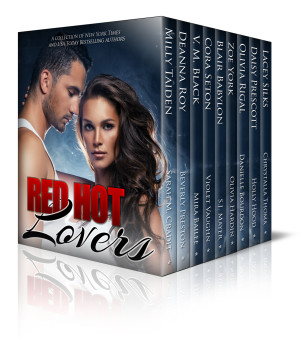 18 top-selling authors have banded together to bring you 18 beautifully romantic, heart-pounding stories of love, passion, and thrilling suspense.
THIS IS A ONE-CLICK SET!
These 18 sexy, sweet men will go to the ends of the Earth to win their ladies' hearts, but will these lovers emerge unbroken?
From first kisses to dangerous encounters and second chances at love, we've gathered all 18 wonderful stories in one big box. This heart-pounding collection is filled with confident, sexy, and sweet men you'll fall madly in love with.
EIGHTEEN NOVELS TO CAPTURE YOUR HEART
AND SET YOUR BLOOD ON FIRE!
Beyond Love and Hate by Zoe York - Tall, dark, handsome, and totally infuriating. Beth can't stop thinking about her new colleague. But Finn isn't the guy for her, and they both know it.
Review by pearls
Beth and Finn love to push one another's buttons. Their verbal banter is fun to watch. But when the gloves come off, their physical butting of heads leads to a more intimate. On it's surface, this is seems to be the clichéd haters to lovers story. What I found unique was the slow process it took Finn to come to terms with his feelings. People don't usually change overnight. Author Zoe York takes us through the process as Finn comes to terms with his feelings. I loved watching his evolution from pulling her pigtails to imagining a daughter in pigtails. The scenes with his sisters are wonderful as they set him straight, making him face his true fears.
The Perfect Someday by Beverly Preston - Tracy lives by a strict moral code, but one masked night with a handsome Italian who entices her deepest desires changes everything.
Review by pearls
This is the 3rd story in the Mathews family saga, but like the others, it can be read as a standalone. It follows the life of Tracy as she graduates and moves forward with her life. As a fellow brainiac, I could completely relate to Tracy: part independent woman, part romantic. Set in Greece and Italy, it is filled with romantic scenes as well as angst. I love how the author engages all the senses in the process of reading the story, much as you would when appreciating a fine wine. I truly became lost in the moments. The beauty of the sunset was intoxicating, and that was before the kiss. My heart was broken and rejoicing along with the characters. And I can't wait to book my next vacation in the Italian wine country!
Plus 12 more steamy rmances
Their Second Chance by Milly Taiden - Nick lost the woman he loved to the heartbreak of infertility. One locked door will either leave them broken forever or back together.
Forever Sheltered by Deanna Roy - A doctor with a secret falls for the unorthodox art therapist at the hospital where he works, sparking a love affair that could destroy both their careers.
Kiss of Memory by V. M. Black - Will has spent his adult life locked in a Victorian sanitarium because he suffers from seizures, but a mysterious baroness offers him a bargain he can't refuse.
The Cowgirl Ropes a Billionaire by Cora Seton - Bella needs money fast, so she enters the reality show, Can You Beat a Billionaire. If she loses, she'll have to marry him.
What A Girl Wants by Blair Babylon - Rhiannon, brand-new back-up singer in the rock band Killer Valentine, cannot fall in love with any of the band members. Really. She must not. Really.
Ripped by Olivia Rigal - Lyv wants a life far from her dysfunctional family and their diner. What she gets is an absent rock-star baby daddy and one helluva choice to make.
Ready to Fall by Daisy Prescott - Falling in love is the last thing on John's mind when Diane, a beautiful brunette with her own messy past, moves next door.
My First, My Last by Lacey Silks - Pierced, tattooed and hot as hell, Adrian steps back into Mia's life after 20 years. Mature. More experienced. Intent on reclaiming his first love.
Azure by Chrystalla Thoma - On vacation in Greece, Olivia meets sexy and enigmatic Kai, but Kai belongs to the sea, and the sea won't let him go, unless Olivia breaks the curse before it's too late.
Wicked Little Sins by Holly Hood -The more wicked the sin, the deadlier it can be. Home for the funeral of their mother, four siblings unearth more than they bargained for.
The Royal Elite by Danielle Bourdon - Ahsan-Sheikh Ahsan Afshar, an arrogant, seductive rogue, falls for a woman whose deadly secrets could tear them apart.
All for Hope by Olivia Hardin - Brennan didn't want to be the love of Hope's life. He wasn't the man she needed. But sometimes the safest distance between two hearts is none at all.
High Risk Love by S.J. Mayer - Risking it all for the one who could shatter her heart completely? Bad idea. Yet Jasmine can't stay away from Jet any more than he can from her.
Rush by Violet Vaughn - Olympic hopeful Gretchen is all for a sex only relationship. But when it races out of control, love isn't the only devastation that threatens her chance for gold.
First Taste by Mira Bailee - Cautious Olivia has no interest in the lives of celebrities until Devon Stone—sexy tabloid favorite—insists she cater a party at his mansion.
St. Charles at Dusk by Sarah M. Cradit - Set amidst the lush and vibrant backdrop of New Orleans, Oz and Adrienne must survive forbidden love and startling heartbreak.
Click to ENTER A GIVEAWAY. INCLUDES $100 AMAZON GIFT CARD AND MANY MORE.
GIFT CARDS, BOOKS AND SWAG!
a Rafflecopter giveaway
Red Hot Lovers Boxed Set will be on sale at $0.99 for a LIMITED time only.

Like the Red Hot Facebook page to keep updated on this and future boxsets!